Triumph over Trouble
Posted by

Date

August 3, 2020

Comments

0 comment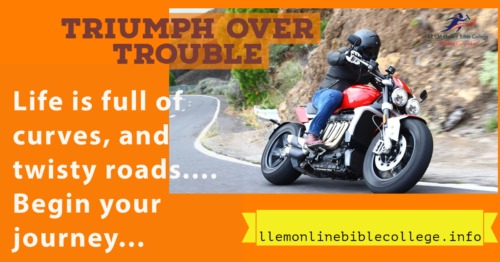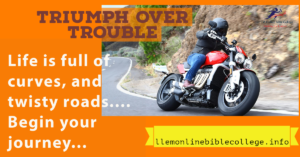 No matter where you look or who you talk to, you see more evidence that COVID-19 continues its rampage, choking everything we used to call 'normal.' The WHO and the CDC report daily infection – and death – numbers. Millions of people have lost their jobs. Racial tension accelerates. Add to the mix the political firestorm that is preceding the 2020 presidential election. And then there's the roller coaster ride our retirement savings are taking on Wall Street. Will things ever get better?
As believers in Jesus Christ, we know the one who holds this world, as broken as it is, in His hands. This is not our real home; we are just pilgrims traveling through.
That doesn't mean we are immune to being caught up in the chorus of distress sweeping across the planet.
Triumph over Trouble
Many of us manage uncertainty in different ways. How are you holding up physically? Are you experiencing headaches? Maybe a little muscle tension in the neck? Digestive or sleep problems? How can we stop the anxiety and fear, and instead trust in the Lord with all our heart? 
After all Jesus said, "In this world you will have trouble. But take heart! I have overcome the world." John 16:33. And later Paul wrote, "Do not be anxious about anything, but in every situation, by prayer and petition, with thanksgiving, present your requests to God." Philippians 4:6
It sounds so easy but how can we untangle our minds?
Consider enrolling in a Bible class at LLEM. 
Really? Now? In this midst of a pandemic?
Paul instructs, "Set your mind on things above, not on earthly things." (Colossians 3:2) And again he says to the Romans, "Do not be conformed to this world, but be transformed by the renewal of your mind." Just as we decide what food enters our mouth, we must purposefully choose what we feed our minds.
Each day is a precious gift. One great way to thank God for this day is to redirect your time and energy into studying His word and glorifying him with your mind.

LLEM has created a series of wonderful biblical studies that can guide you in every day practical matters. In the evening, instead of filling your thoughts with the dismal news about the state of the economy, job losses and rising COVID-19 cases, decide to take a high mental road. You can enroll in a class about Studying God's Word, or Worshipping Him. There's even a course about our Heavenly Pilgrimage.

Examine the LLEM Online Courses Offered
Once you enroll, turn on your computer and log onto your online Bible College class. You will join fellow Christians who are also trying to keep their focus on God. What an encouraging way to end the day!
Centuries before Paul's day, Isaiah wrote a powerful truth about the Lord. "You keep him in perfect peace whose mind is stayed on you." (Isaiah (26:3). Scripture is full of promises and instructions about the benefits of setting our minds on Him.

These truths are like anchors which keep us connected to our Lord and Savior. Perhaps God is using this pandemic to awaken people – to kindle a flame of love in those whose hearts have turned lukewarm.
Yes, there's a lot of chaos in the world and most of us cringe at the thought of what's happening – and what may happen when the sun rises in the morning. We know there will be plenty more battles once this pandemic ends.  
Reject Negative Thinking
The next time you are scouring social media and you see that your friends are posting negative news, shut it down. These people are like Chicken Little, always predicting that the sky is falling. Instead of reading that, read this:

"Whatever is true, whatever is noble, whatever is right, whatever is pure, whatever is lovely, whatever is admirable – if anything is excellent or praiseworthy – think about such things." (Philippians 4:8)
As your attitude brightens, others will notice a change in you. That will give you an opportunity to tell them about the hope that is in you. You can share how you decided to shut down the news – and social media – and log onto LLEM.
At first it will take discipline. Keep your Bible in your direct line of vision and place the TV remote in a drawer and keep it out of sight. Creating new patterns and habits will pay great dividends…like this one: "And the peace of God, which transcends all understanding, will guard your hearts and your minds in Christ Jesus." Philippians 4:7.